Executive Summary
On March 20th, the Federal Reserve announced it was reducing its Fed funds rate to between zero and 0.25%, and outlined an unusually broad and open-ended program of bond purchases to assure liquidity in the banking system and maintain credit availability for American businesses. Although the Fed's monetary initiatives have since been eclipsed in the news by the $2 trillion coronavirus relief bill passed by Congress, they have left interest rates with nowhere to go but up and bond prices with nowhere to go but down.
Given the outlook that rates and inflation will remain low for the foreseeable future, the yield curve has flattened, leaving credit risk as the only remaining source of incremental yield for investors desperate for incremental in-retirement income.
While the premium offered by high-yield bonds may be tempting, the typical investor may not fully understand the risk for which they are being compensated. When corporate earnings decline and the risk of defaults rise, the market for high-yield bonds can become one-sided with plenty of sellers but few, if any, buyers. Thus, even if the company issuing the debt does not default, investors must confront the question of what is the value of a bond that no one wants to buy.
Given that investors in the decumulation phase of their retirement plans should avoid prematurely liquidating stocks, investors seeking in-retirement income may want to tilt their fixed income allocation to higher quality bonds in order to maximize their liquidity and flexibility to generate income from bond sales while waiting for stock prices to recover, or in order to rotate back to high-yield bonds when credit spreads are wider.
Background
It's been another dizzying week in the market with US stocks enjoying a healthy bounce even in the face of record jobless claims. The longer the pandemic goes on, the more we learn and the more we realize all of the things that no one knows, particularly regarding the possibility of additional layoffs, additional stimulus, and new developments in how we are managing the virus. Although it is hard to know whether the market rose last week because of the coronavirus relief package passed by Congress, or whether investors are assuming the recession will be deep but brief, it is important to remember that the market only regained about a third of its earlier losses so the market's jump from its low may simply be the bounce that occurs in the middle of a bear market until investors have a chance to process new information before ultimately capitulating and driving the market still lower.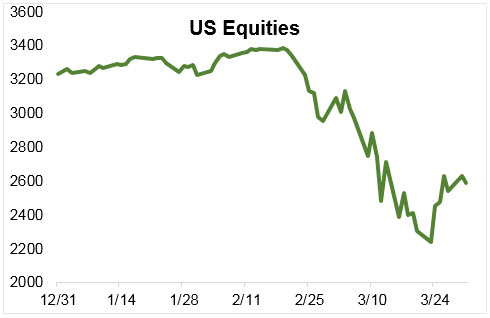 Source: AssetMark, US equities represented by the S&P 500
Unfortunately, the nature of the catalyst for this recession, the novel coronavirus, means that people can't be confident about how long it will last or how bad its impact on earnings will be. While stories about the coronavirus dominate the news, they are generally focused on mortality rates and whether the federal and state governments are responding adequately to "successfully bend the curve." The thing about medical research, however, is that it takes time and even if a vaccine were developed on the faster end of publicly cited estimates, it is still highly likely to be 12 months before we have enough doses to make an impact manufactured and widely distributed. It feels as if the more we learn about the pandemic, the more we appreciate how much we don't know. This is not only true for the virus and how best to combat it, but also for assessing the impact of "social distancing" on the economy which is what the market is trying to forecast. It's worth keeping in mind that, due to reporting lags, we won't know how bad Q2 earnings were until sometime in July, so at this point investors may want to assume they are closer to the beginning of this bear market than to the end.
While the $2 trillion coronavirus relief package (the CARES Act) has dominated business and investing news, the more important event for income-oriented investors was the earlier decision by the Fed to reduce its overnight rate to between zero and 0.25% and to flood the system with liquidity through an unusually broad and open-ended program of bond purchases.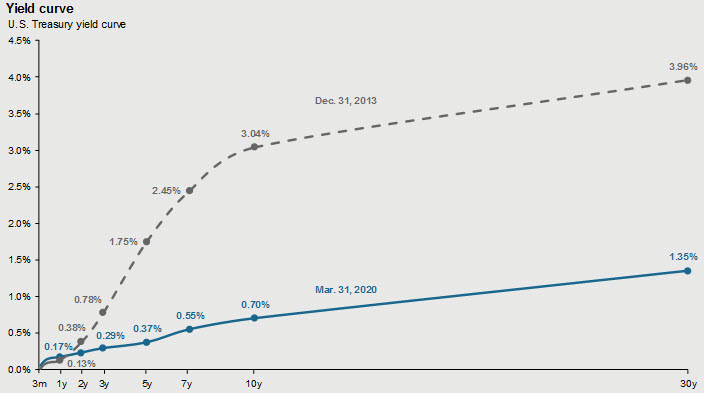 Source: JP Morgan Guide to the Markets, March 31, 2020 pg. 34
The initial effect of this was to push the entire yield curve below 1.0% for the first time in history. In the face of rising jobless claims and impaired earnings, as people shelter in place and withdraw from the economy, there are no expectations of inflationary pressure in the foreseeable future. As a result, interest rates are low and the yield curve is relatively flat (i.e., little or no yield premium available for lending money for longer periods of time) with the 5-year Treasury note currently yielding 0.37% and the 10-year US Treasury bond yielding 0.70%
The flatness of the yield curve means that investors who are focused on in-retirement income have no choice but to look to credit risk to boost their income and while Baa-rated bonds (the lowest investment-grade bonds) are yielding approximately 2.3% more than the yield on the 10-Year US Treasury which is certainly more than the 1.8% credit spread in March of 2018, but is well below its high coming out of the Great Financial Crisis when the spread reached 5.64%. The search for yield can be a slippery slope making high-yield (aka non-investment-grade or junk bonds) tempting for investors especially since the actual default experience of such bonds has historically not been much higher than that of the lower-end of investment quality bonds.
High-Yield Bond Risk
The nature of high-yield bonds can make it difficult for investors to fully appreciate the associated risk. They are classified as bonds, which are typically thought of as "safety assets," but high-yield bonds actually behave like a hybrid of stocks and bonds, they move in sync with equities, but with smaller percentage moves both up and down. When people think about high-yield bonds, the associated risk for the typical investor is probably that there is a higher risk of default and this is probably truer now than ever. At the beginning of this week, the ratings agency Moody's Investors Services cut its outlook for US corporate debt from "stable" to "negative," citing an economy about to enter a recession, as a result of social distancing, that will result in rising default rates. While there will likely continue to be demand for bonds as the Federal Reserve's bond buying program can be as broad as the Fed wants it to be, and even though earnings will stress debt service ratios, the impact on earnings will likely not be permanent and corporations have the option of suspending dividends or additional layoffs before defaulting on their debt obligations.
The real risk of high-yield bonds comes from their conditional liquidity. When the stock and credit markets dislocate, demand for certain high-yield bonds can all but disappear at the same time that owners of high-yield debt are looking to sell. Since value is the price that sellers are willing to accept and buyers are willing to pay, value can fall precipitously and thinking back to 2008 when we saw this. High-yield bond prices can "gap" where investors are forced to sell because they need the cash for income or some other purpose, and have no choice but to accept whatever offer someone is willing to make, assuming there is anyone willing to buy. Thus, even if a company does not default on its debt, the value of high-yield bonds could be severely impaired during periods of market dislocation for investors who are unable to continue to hold the bond until orderly trading markets are restored. We saw a glimpse of this during the precipitous drop in the stock market when bond indexes that use model pricing saw their value drop significantly less than ETFs (and mutual funds) based on these same indices but which are priced at levels where transactions are actually able to be executed. This disparity of return was observed in the Bloomberg Barclays Capital Bond US Aggregate Index and its representative ETF. Since they do not include non-investment grade bonds we can only assume that the dislocation in the high-yield market would be even more pronounced.
The only thing we know about the current market environment is that we are heading into a recession of as-yet-undetermined duration that will result in a large drop in earnings and a large jump in unemployment. The CARES Act and any subsequent fiscal stimulus bills will help to ease some of the suffering of workers but there does not appear to be any way to avoid the recession.
Portfolio Positioning
While there is some possibility that the worst is over, investors and advisors must consider the possibility that equity and credit markets retest their March low as the death toll climbs and the date by which companies are expected to return to work gets extended. In this scenario, the perspective of investors who are saving for retirement may diverge from those people who are already in retirement and focused on dividend and coupon income and potentially selling some portion of their assets to fund their in-retirement income needs. Investors who are still saving for retirement may feel comfortable retaining a high-yield bond tilt they may have in their fixed income allocation because they can ride out any temporary dislocation in the credit markets, but investors focused on in-retirement income may want to position themselves for maximum flexibility given the potential uncertainty of cash flow needs as layoffs may lead to retiring earlier than expected or requests for financial assistance from adult children or other relatives. The value of positioning oneself for maximum liquidity and flexibility may be especially useful to investors close to retirement, or in retirement, who should want to hold onto as much of their stock positions as they can in order to be able to fully participate in the eventual recovery of the stock market.